Schedule A Tour
The Iowa Energy Center offers tours throughout the year at either of the state-of-art research and demonstration facilities in Nevada and Ankeny. See facility details below. To schedule a tour, please contact the facility directly.
http://vimeo.com/94410282
Biomass Energy Conversion (BECON) Facility
1521 West F. Ave.
, Nevada, IA 50201
Bridging the gaps between laboratory research and real world applications is a hallmark of the Iowa Energy Center. In this tradition, the Energy Center created the Biomass Energy Conversion facility (BECON), located in Nevada, Iowa. BECON is a focal point for developing value-added products from Iowa's abundant biomass resources. It provides credible, firsthand information on biomass technologies to create fuels and chemicals, as well as demonstrations of pilot-scale biomass conversion systems. Want to learn more, watch our video about the BECON facility with Norm Olson, Bioenergy Program Manager and Facility Manager.
To Schedule a Tour of the BECON Facility
Please contact the facility staff at the following contact information:
515.382.1774 | email |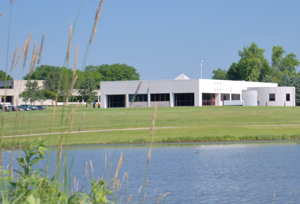 Energy Resources Station (ERS)
DMACC Bldg. #23, 2006 S. Ankeny Blvd.
, Ankeny, IA 50023
The Iowa Energy Center's Energy Resource Station (ERS) is designed for the simultaneous testing and demonstration of multiple, full-scale commercial building HVAC systems. No other facility in the nation has the system capabilities that are integrated within the ERS, making it a truly unique laboratory building.
To Schedule a Tour of the ERS Station
Please contact the facility staff at the following contact information:
515.965.7055 | email |
In addition to tours, the Energy Resource Station is available for energy-related groups to hold meetings and conferences at the site. For larger meetings, the adjacent DMACC Conference Center has a 350-seat auditorium, a variety of meeting rooms and catering services.