Energy Resource Station (ERS)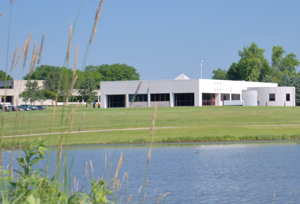 A Facility With Unequaled Capabilities
The Iowa Energy Center's Energy Resource Station (ERS) is designed for the simultaneous testing and demonstration of multiple, full-scale commercial building HVAC systems. No other facility in the nation has the system capabilities that are integrated within the ERS, making it a truly unique laboratory building.
The information gathered at this research facility provides practical information for building owners, architects, engineers and building operators on cost-effective, energy-efficient technologies for commercial and industrial buildings. The ERS also provides an environment for hands-on training for this group of energy professionals – showing rather than telling them – how to maximize the efficiency of the building systems they already have and what to look for when it comes time to invest in new HVAC equipment.
The ERS conducts Iowa Energy Center sponsored applied research and collaborative research with national energy laboratories and organizations. Solving the most critical problems and enhancing the technologies in all areas of energy efficiency is the main focus of the facility. Real world demonstrations of HVAC equipment and control systems, are also conducted at the ERS and the facility hosts educational training seminars and classes related to building energy efficiency.
The Iowa Energy Center's main office is located in Ames, Iowa and is administered through Iowa State University . The Energy Center includes two facilities showcasing collaborative research, education, and demonstration activities. The Energy Resource Station (ERS) at Des Moines Area Community College in Ankeny, Iowa and the Biomass Energy Conversion (BECON) facility in Nevada, Iowa.
For more information on how we can collaborate with you, please call the Energy Resource Station office at 515.965.7055 or email us at iec@iastate.edu .

Energy Resource Station (ERS)
DMACC Bldg. #23
2006 S. Ankeny Blvd. 
Ankeny, IA 50023
| DMACC map